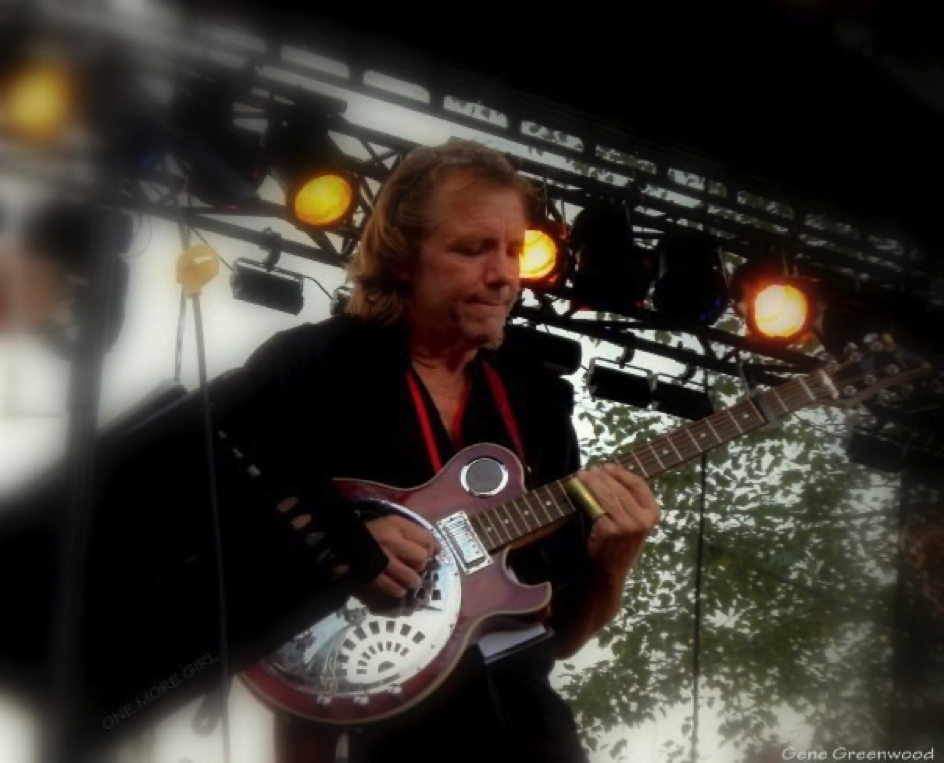 Ever since Robbie Steininger's mother won him his first guitar in a bingo game, Robbie has always known what he wanted to do. Fresh out of high school, the guitar prodigy started his own band, called "Backroads". The band played every high school and legion in the province. And through the '70′s, Robbie became very popular as a guitarist in other bands as well, such as TKO, Oliver Skills and Laden Argus, to name a few.
In the '80′s, Robbie joined the James Younger Band, where his songwriting ability began to emerge. The James Younger Band opened for the Allman Brothers and released a self titled EP to great critical acclaim. Robbie's guitar prowess did not escape the attention of various producers and studio heads, leading to a huge amount of session work for Steininger, whose playing was featured on countless ads for McDonalds, Levi's, Coors, etc.,and Robbie became the first call guitarist for every major producer in Vancouver.
Nearing the end of the '80′s, Robbie began doing more session work in the "country" vein, and was happy to return to the stage, working with a great variety of artists and bands including Patricia Conroy, Lisa Brokop, Valdy and Rita McNeil. In '86, Robbie played on a session for an up and coming country crossover band named Alibi. In '88, he was asked to join the band.
Alibi toured all over North America and their album, "No Doubts" garnered a position in the '89 Billboard Top 100. Robbie's performance on this album earned him his first Guitarist Of The Year award from the BCCMA, an honour he would experience five more times over the coming years!
At this point in his career,  Robbie was invited to play on some demos for singer/songwriter Sue Medley. She subsequently asked Robbie to join her band as guitarist and musical director. Sue was signed to Polygram Records in '89, and released her self-titled debut album, which was produced by Mike Wanchic, guitarist and producer in John Mellencamp's band.
The first single released, "Dangerous Times", went Top Ten in Canada with an accompanying video put into heavy rotation, with several other singles going top ten shortly after. The success of the album led to the band being invited to open on a tour of Canada and the northern USA for none other than Bob Dylan.
Rumour has it that the reclusive Dylan, himself, appeared in the wings every evening during a segment of Sue's show that featured Robbie in a prolonged guitar/drum solo interlude.
After the tour, Robbie traveled back to Bloomington, Indiana, to John Mellencamp's studio, The Belmont Mall, to work with Sue on her sophomore album, which included two co-writes with Steininger. While recording there, Robbie was asked by Medley's producer to play on an extended mix of Mellencamp's song, "Love and Happiness".
Robbie continued playing, writing and performing with Medley for several more months, blowing audiences away with his tone, style and scope of ability while opening for Tom Cochrane and Kim Mitchell.
In early October of 1991, Robbie was asked to play on a demo for a young singer/songwriter from Vancouver named Megan Metcalfe.  The pair "clicked" immediately, both musically and personally. The couple moved in together and immersed themselves in writing and demoing songs. Metcalfe quickly caught the eye of EMI Music Canada, who encouraged her to release her first album independently, since Metcalfe had more than enough finished material that Steininger had produced, and the songs were very strong. Any album the label became involved in would take more than a year to release. So Metcalfe and Steininger forged ahead with an independent debut called, "Love Is An Outlaw". The album was a critical success, getting 13 national favorable reviews only months after it's release. EMI subsequently signed Metcalfe to a six album deal and re-released "Outlaw", simply titling it, "Megan Metcalfe". This was Steininger's first major production project and he nailed it, not only playing a huge variety of instruments on the album, but pulling together some of Canada's finest musicians to contribute their talent to the cause. Matt Frenette, Linda McRae, Vince Deitrich, Sue Leonard, Richard Sera, etc., formed a veritable who's who of Canadian talent and their heartfelt performances created an even larger buzz around the project. The first single, "Starbird Road" went top ten in Canada, with a video going into heavy rotation.
Through the '90′s, Steininger, in typical frenetic fashion, worked on a great variety of performances, tours and sessions, including a jazz christmas album performing with the likes of Melissa Manchester and Peabo Bryson and guitar clinics with Danny Gatton and Joe Walsh, while continuing to play, tour and record with Metcalfe.
In '97, the couple married, and Robbie also received the Pacific Music Industry Association's Musician Of The Year Award. In '99, Metcalfe and Steininger were blessed with a beautiful son, Mason. Robbie's prolific career continued, despite losing both his parents over the next few years and a major health crisis involving a dangerous kidney condition he developed in the spring of 2003. After successful medical intervention, Steininger's health was restored. He was given the BCCMA Lifetime Achievement Award that year and he was further elated by the birth of their daughter, Charlotte, in 2004.
Many of Steininger's summers have been spent performing in the band for the Calgary Stampede, both in the recording studio prior to the event, and subsequently on stage in front of an audience of 25,000 people per night.
More recently, Robbie was asked to write a composition for the Four Nations Welcome to the 2010 Winter Olympic Games. The composition, called, "The Gathering" was heard by millions of people around the world.  Robbie also recorded the music for the Opening Ceremony of The 2010 Winter Games under the baton of Emmy Award- winning composer Dave Pierce, and went on to perform live at the Games behind such artists as kd lang, Sarah McLaughlin, Nelly Furtado and Bryan Adams, among others.
Robbie is currently producing an album for the North Vancouver band, "Bitterly Divine", attending recording sessions at Chad Kroeger's (Nickelback) studio for George Canyon and working on a third album with Megan Metcalfe. Most notably, he's recently finished recording a debut album of his own original material. "The Gears" is Robbie Steininger's eclectic gem of an album, which features all the amazing range of Steininger's talent and the enormous breadth of his musical influences. Nothing seems to stop this Canadian guitar phenomenon. Robbie Steininger's odyssey and legend continue…..